WHAT MAKES RIVERSIDE GOWNS DIFFERENT FROM OTHER WEDDING GOWN SHOPS?
Riverside Gowns doesn't just make wedding dresses, but also custom-makes, alters and sketches the perfect one. River, the owner of Riverside Gowns, will work with you one-on-one to create your perfect débutante, bridal and formal gown, which has been her passion for many years. You can bring in a multiple photos of dresses and she can combine them into one, as well as making sure to note down the correct measurements to have the dress perfectly fit and accentuate your figure. If that is not enough, she will alter your dress free of charge afterwards to ensure it is perfect for you.
OTHER SERVICES
At Riverside Gowns, we don't just focus on Bridal Wear. We custom make Debutante Gowns, Formal Wear, Bridesmaid Dresses, Flower Girl Dresses, Mother of the Bride and more! We have a complementary alterations service for all custom ordered gowns. Riverside Gowns offers a Bridal Package for all the dresses in the Bridal Party. We can custom design the Wedding Gown, Bridesmaid Dresses, Flower Girl Dresses and Mother of the Bride. This service helps create a stress free environment for brides and allows everything to be looked after at the one place, which means no running around trying to find something suitable for all your bridesmaids!
We also offer alteration services on the following:
Wedding Gowns and Formal Wear bought online
Taking in/up Suits
Taking in/up Skirts and Dresses
Taking in/up Jeans
Leather Work
and More!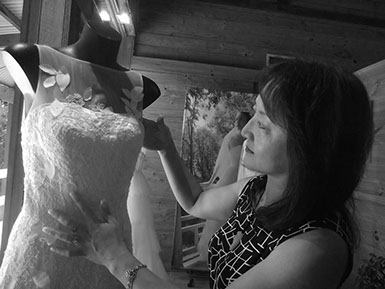 ABOUT RIVER
River Bradford, the owner of Riverside Gowns, studied Textile Design at the Royal Melbourne Institute of Technology. She has had over thirty years of experience in the fashion design industry. River used to own her own fashion boutique Pink Lotus on Swan Street in Richmond, where she sold a unique range of her designs. Since then she has opened up Riverside Gowns, a little closer to home in leafy Warrandyte to concentrate on clothing alternations and formal gown making.