Frequently Asked Questions
HOW MUCH DOES A CUSTOM MADE GOWN COST?
Our wedding gowns start at $1200 and can go up to $3000+, including two fitting sessions and alterations. Prices vary depending on fabric choice, beading and style. We usually offer a quote based on a provided image. We strive to be able to make gowns that fit your needs and budget. We also offer a package deal, for $3500, which includes a wedding gown and three bridesmaid dresses*.
WHAT IS THE PROCESS OF MAKING A MADE TO MEASURE GOWN?
Gather images from the internet or magazines to show the style of gown you like.
Make an appointment with us and River, our designer and seamstress will help you make changes based on your thoughts, images and preferences. She will create a sketch of your gown for you to approve.
We have a large selection of fabrics and laces for you to choose from including luxurious silk and French lace. We also have a range of colours to choose from. Alternatively, you can bring in your own fabric and we can make your dress from the material that you bring in.
Once your design had been finalised, the dress making process begins, this process can take up to 10 weeks depending on the design of your gown.
Once the dress has been completed we organise for you to come in for your first fitting.
We take this opportunity to make any alterations that you may need. The price of your gown includes two fitting & alteration sessions to make sure that the gown will fit you perfectly.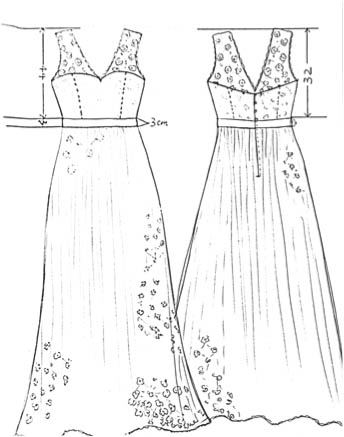 HOW MUCH TIME DO YOU REQUIRE TO HAVE MY GOWN HAND-CRAFTED?
We work within a 8-12 week time frame. This allows us plenty of time to schedule multiple fittings and make any alterations that need to be done.
WHEN DO YOU TAKE APPOINTMENTS?
We are open from 10.30am to 5.00pm on week days and by appointment only on weekends.
WHERE ARE YOU LOCATED?
We are located in a rustic studio in the beautiful leafy eastern suburb of Warrandyte. You can find us at 337 Warrandyte-Ringwood Road, Warrandyte.
CAN I BUY OFF THE RACK?
We occasionally have limited sample stock in out studio that we are happy to alter to fit you. Keep in mind that this stock is mainly in sizes 10 to 12.
DO I NEED TO BRING ANYTHING TO MY INITIAL APPOINTMENT AND FITTINGS?
Please bring with you any ideas/images/fabric samples you may have in mind to your initial appointment. We also suggest wearing appropriate underwear to all fittings (e.g. strapless or nude bra and nude underwear)
I'M NOT SURE WHAT I WANT FOR MY DRESS. CAN YOU HELP?
We have a selection of images and inspiring materials to look at in our shop to help inspire you. Once we have a basic silhouette or style, we can start choosing fabrics and the smaller details. If we haven't catered to all of your questions below, please feel free to contact us through our contact page or send us an email at admin@riversidegowns.com
REFUND POLICY
CANCELATIONS DURING OR AFTER PRODUCTION
If for any reason you default/cancel your order during or after production 50% of the purchase price will not be refundable, there are no exceptions, once production has begun we are unable to cancel it with our manufacturer as all dresses are custom made to order.
DAMAGES
If your gown is damaged or faulty beyond our repair before final pick up, we will offer a full refund.
If dress is faulty on first wear we will repair any damages to zips, seams, etc.
If the gown has been soiled after take home and first wear we will not provide a refund.
CHANGE OF MIND
The full amount must be paid if you change your mind about any aspect of the gown and we have delivered the garment in to the correct time frame and followed all fabric, style and colour specifications.
*Wedding gown value must not exceed $2000. Terms and conditions apply. See in-store for details.